Port Salerno, Florida is an upscale community located in Martin County between Palm City and Hobe Sound. It is strategically situated where the Atlantic Ocean meets with the Indian River and the St. Lucie River. When the United States was just 118 years old in 1894, a very small-town fishing village was founded on the east coast of Florida. The area was rich in agriculture focused on pineapple crops and of course, water related fishing commerce by being so conveniently located where the Indian River and St. Lucie rivers intersect at the Atlantic Ocean.
The town, which includes parts of unincorporated Stuart, Florida, is situated at about the halfway point along the east coast of Martin County and spans easterly from US 1, also known in this area as Southeast Federal Highway, to the St Lucie River, and from SE ST Lucie BLVD at the northern end, to about as far south as the north end of the Mariner Sands Country Club.
The town eventually became incorporated twenty-seven years later and finally took the name Port Salerno, derived from early settlers and landowners in the area who were Italian immigrants from Salerno Italy.
As a boating and fishing center, Port Salerno's reputation is world renown. Major Sport Fishing Tournaments are held here each year and there have been numerous World Record Fish caught in the vicinity. It is also home to the internationally known Chapman School of Seamanship.
Today, Port Salerno lies in an area that is one of the fastest growing in Martin County. The area's potential for development was recognized in the early 1970s by those who foresaw potential for people who enjoyed golf as much as they did boating. They established Martin County's first golf course community as well as the Yacht and Country Club of Stuart, with deep water canals leading out to the ocean. Port Salerno is also home to the St. Lucie Inlet Preserve State Park.
Walking along Federal Highway in Port Salerno, it does not take long to reach Salerno Road and what is the obvious "hub" of Port Salerno. This is the area known as the Manatee Pocket. It has beautiful, picturesque views of the docks, harbor and water ways.  There are several local eateries situated directly on the water including the unmistakable Twisted Tuna which has multiple levels, both inside and outside dining, and daily live music on a barge that faces the rear of the restaurant. Evenings at the Twisted Tuna are quite lively and there is an engaging energy to the atmosphere. Reservations are accepted for larger parties. This may change from time to time, so it is recommended you call ahead. Just down the boardwalk from the Twisted Tuna is another part of the restaurant where you can order from the same menu and includes an open-air bar and Creamery.  This area is more laid back with light house music piped throughout with speakers, has direct views of the harbor, and is flanked on all sides (except the water side of course) by local working artisans who have set up shop in the available boutique style establishment, the Fish House Art Center Gallery. After a meal, browsing these delightful shops is an unexpected treat.

Other notable waterfront restaurants include Shrimpers Grill and Raw Bar and Mangia Clam Bar, formerly Manatee Island Bar and Grill.  It is likely no coincidence that the restaurant was very recently purchased by the owners of Arrabiatas "Italian" Restaurant in Boynton Beach Florida, and is in perfect keeping with the "Italian" tradition of their northern neighbors in the town of Port Salerno.
On the opposite side of Federal Highway in this area of the Manatee Pocket is the Whistle Stop, a great place for a quick, no-frills sit-down lunch or, to-go order. Further down the way is the district restaurant which is a relatively new chain of eateries in Florida.  Of course, being a port town, there is no shortage of boating vendors, sales, repairs, and docks for rent.
Lodging directly in Port Salerno is at a premium with only the Manatee Pocket Inn located directly in the town.  Plenty of other hotels are nearby in Stuart, as well as Jensen Beach, Hutchinson Island and further south near Hobe Sound and Jupiter Island, all of which are great travel destinations in their own right. However, it would not be surprising if most of the guests to the area "turn in" by sleeping on their yachts in the natural bay of the Manatee Pocket.
The town is known for its excellent fishing, fishing tournaments and too many water-related activities to name, but which do include paddle board rentals and tiki-boat rentals that make a perfect celebratory gift or just for fun outing.
Martin County has several nearby beautiful parks including the water surrounded Sandsprit Park, and the Port Salerno Civic Center whose nice amenities are available for rent. The facility includes a large parking lot with an adjacent board walk on one side of a water cove just down the road from the Manatee Pocket, but with direct access to it, and an old boat dock for what appears to be smaller vessel water entry.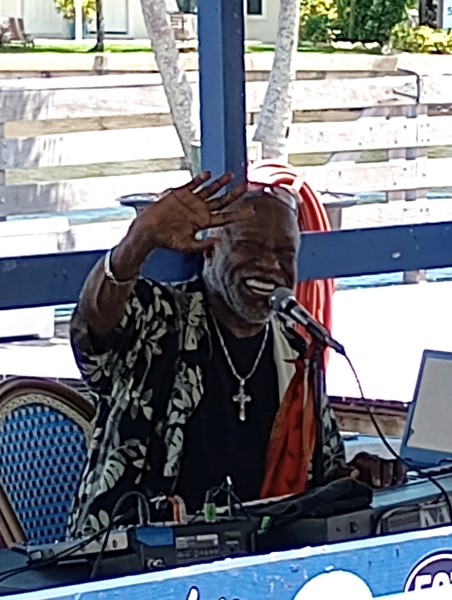 It is a small town, so don't blink or you might miss out on all the fun! 😉
Article and photos by Jodi Doyle